1 Thing I do Every Day for a Healthier Heart 
I'm not a doctor nor do I play one on TV (on in this case on the internet)… but I am passionate about leading a healthier life. I've been on this journey for nearly 20 years now and today I'm going to share with you the 1 Thing I do Every Day for a Healthier Heart.
First a little background….Heart Health should be important for all the obvious reasons, but for me personally it's because I understand first hand how heart disease can impact a family.
My dad had an unexpected heart attack about 15 years ago. He was active and looked slim & trim. Dad followed all the typical healthy advice of the 70's, 80's & 90's (less fat, more carbs) yet he was still suffering from heart disease.
I had already began my own quest for a healthier life a few years previous but this event was the true catalyst for my own passion for Real Food Healthy Living. Early on in my journey I realized that eliminating fats is NOT the way to a healthier heart but my Dad's heart attack solidified it.
1 Thing I do Every Day for a Healthier Heart is Consume More FAT
Yes, you read that right. The 1 Thing I do Every Day for a Healthier Heart is Consume More Fat… specifically EPA & DHA, Omega-3 rich fats.
Omega-3 fatty acids are essential polyunsaturated fats, which means your body cannot make them… My favorite REAL FOOD Sources of Omega – Fats are:
Grass Fed Beef & Dairy – The amount of Omega-3s in beef depends on the animal's diet. A 3.5-ounce serving of grass-fed beef averages about 80 milligrams of Omega-3s—twice as much as regular beef.
Pasture Raised Eggs – Compared to eggs of the caged hens, eggs from pastured hens have more than twice as much Omega-3 fats.
Fatty Fish – like salmon, mackerel, herring, lake trout, sardines and albacore tuna are high in Omega-3 fatty acids.
Nuts & Seeds – are another category of Omega 3-rich foods. Walnuts of all kinds – black, butternut, English – can get you healthy doses of Omega-3 fatty acid ALA. So can flaxseeds, mustard seeds, chia seeds, and pecans.
Increasing Omega-3 fatty acid consumption through real food is important, of course. However, many of us are not getting enough Omega-3 by diet alone. That's where supplements can help.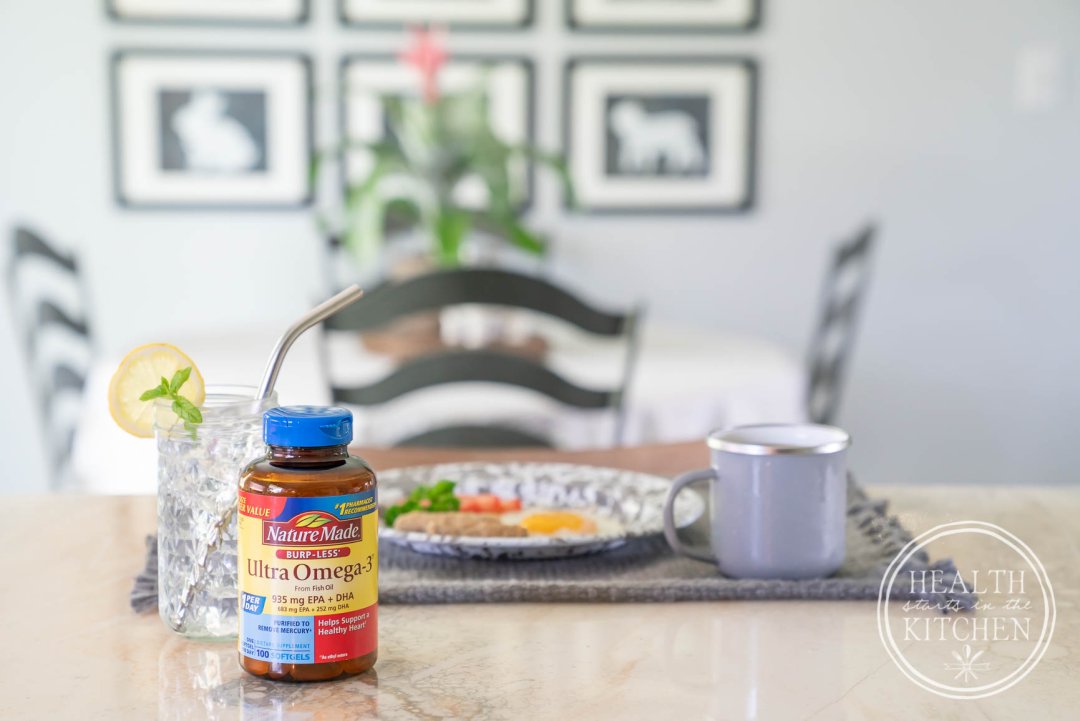 Hover over this image to shop Nature Made® Omega-3 supplements!
To be honest, I'm not someone who takes a bunch of supplements, I prefer to get my nutrition from healthy, nutrient dense real foods BUT when it comes to healthy fats, I'm always eager to sneak a little extra into my diet, like adding extra Fish Oil.Have you ever spent way too much time looking for your favorite product on the store shelf and just couldn't find it? If you're a Walmart shopper who takes Nature Made® Fish Oil, the struggle is real – because you can't find a product that's no longer available!
But don't worry! It's not gone, it just has a new name with new packaging to show the most important ingredients. Nature Made® Ultra Omega-3 935mg EPA+DHA, One per Day, Burpless is still found in the same place, the supplement aisle in Walmart…​

Text OMEGA3 to 555888 for a quick video from Nature Made® to learn more about your Heart Health and Omega-3s at Walmart.
You can NOW find a selection of Nature Made Omega-3 supplements that clearly call out the amount of EPA & DHA Omega-3s on the front of the label. (EPA + DHA Omega-3s are the active ingredients in fish oil that provide heart healthy benefits.†)
Why Choose Nature Made® Omega-3s?
Nature Made® is the #1 Pharmacist recommended vitamin and supplement brand*
"Burp-Less" formula Fish Oil is specially coated to help prevent a fishy odor and aftertaste.
Purified to remove mercury‡
Nature Made® fish oil supply only comes from wild caught ocean fish, not farm raised fish
No Color Added
No Artificial Flavors
No Yeast or Starch
Gluten Free
Fish oil and Omega-3s – What's the difference?!?
Fish oil is a great source of naturally occurring Omega-3 fatty acids, essentially they are the same thing… The Omega-3s naturally found in fish oil (EPA & DHA) have been studied extensively for their important roles in supporting heart health.1-2,†
In fact, there has been so much research showing the link between EPA/DHA & heart health support that the FDA approved a qualified health claim that "supportive but not conclusive research shows that consumption of EPA & DHA Omega-3 fatty acids may reduce the risk of coronary heart disease." 3
Why Did Nature Made Change the Label of their Fish Oil to Omega-3?
With this change in labels, Walmart is making it EASIER for you to shop for the best fish oil and find the right Omega-3 supplement for your unique needs! I prefer to take one pill per day, normally with my first meal of the day (which is still packed with healthy Omega-3's!).
Unless you are 100% sure you're getting enough Omega-3's from your diet alone, taking a supplement is a great idea. When in doubt talk to your doctor about the correct dose for your uniquely awesome body.
*Based on a survey of pharmacists who recommend branded vitamins and supplements.
‡State-of-the-art purification processes to remove PCBs, dioxins and furans, and mercury to ensure purity levels below 0.09 ppm, 2 ppt WHO TEQs, and 0.1 ppm respectively.
Delgado-Lista J, et al. Long-chain omega-3 fatty acids and cardiovascular disease: a systematic review. British J of Nutr. 2012;107:S201-S203.
Mozaffarian D, Wu JHY. Omega-3 fatty acids and cardiovascular disease. J Am Coll Cardiol. 2011;58:2047-2067.
U.S. Food and Drug Administration. Summary of Qualified Health Claims Subject to Enforcement Discretion: Omega-3 Fatty Acids & Coronary Heart Disease. Accessed 15 March 2017. https://www.fda.gov/Food/LabelingNutrition/ucm0739…
† These statements have not been evaluated by the Food and Drug Administration. These products are not intended to diagnose, treat, cure or prevent any disease.
SaveSave