Homemade Country Breakfast Sausage Recipe
This Country Breakfast Sausage Recipe will make it easier than ever to transform boring plain ground pork into a delicious homemade country sausage your whole family will enjoy!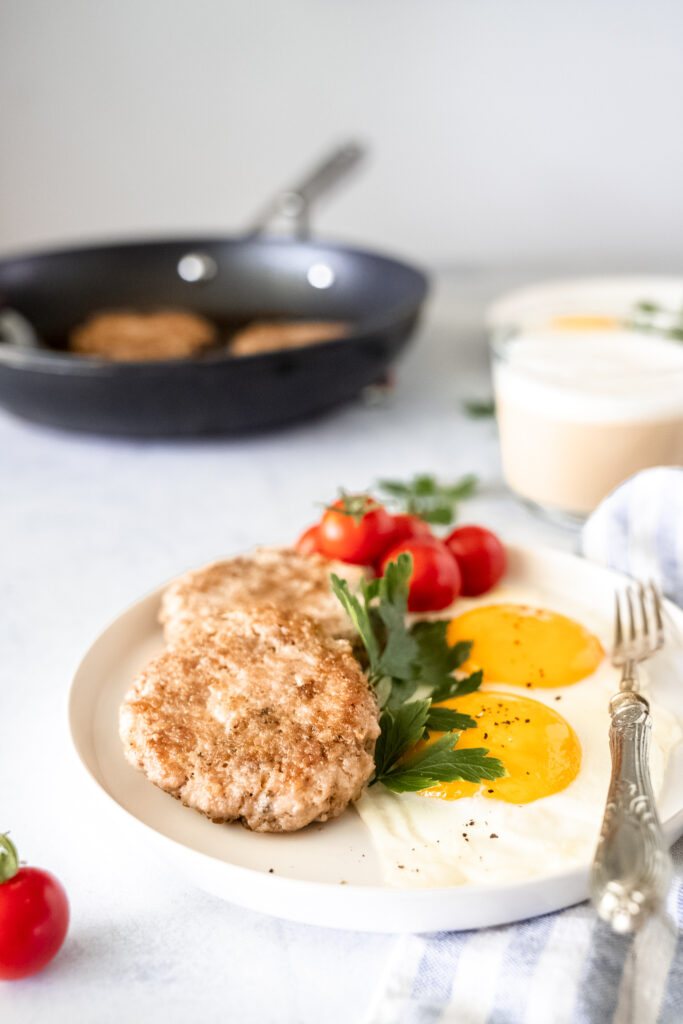 Every year we purchase a pasture raised Hog from a local farmer. It saves us so much money by purchasing our meat in bulk. And I can't even begin to explain how much better it tastes that any other pork we've ever had.
Plus when buying a whole or half an animal from a local farm you get to fully customize the way it's butchered, allowing you to select the cuts that you enjoy eating.
While we do have the option to get the ground pork from our hog made into sausage at the butcher, we prefer to season it ourselves. I'd rather have a bunch of ground pork in the freezer that I can use plain in basic recipes like meatloaf, meatballs etc. Or eally unique and special recipes like my spicy asian green beans with ground pork recipe, then make this country breakfast sausage, mild Italian sausage or homemade hot Italian sausage when ever I need it.
What is Country Sausage?
Country Sausage is also commonly known as Breakfast Sausage. In other words it is a type of fresh pork sausage usually served at breakfast in the United States. The seasonings commonly used in this delicious sausage are black pepper or sage. There are also varieties seasoned with maple syrup or cayenne pepper.
Not only Americans but many other countries throughout Europe (Germany, France, Italy, Spain, etc) have popular versions of sausage, like Mexican chorizo, old high German sausage or bratwurst, etc. You can also find similarities between sausage and foods like bologna, frankfurter, brats, hot dogs, and salami.
Fresh Country Sausage originated as a way for farmers to make use of as much hog/pig/pork meat as possible. Scraps and trimmings were ground and seasoned, to be consumed by the farmer as an inexpensive part of their morning meal.
Country Breakfast Sausage can be in the form of smoked or fresh; patties, individual links or loose sausage meat. Served on a breakfast sandwich or platter, most often along with eggs, or used to make one of my favorite breakfast dishes; Sausage Gravy over Biscuits! Country Sausage is prepared most often my frying it in a skillet over medium heat, but can also be grilled, baked or microwave.
While this type of popular sausage is typically served for breakfast, it can also be used in recipes calling for any variety of different types of sausage and served any time of day! (we love this homemade gourmet sausage on pizza, used in soups, in pasta sauce etc.)
Even if you aren't a farmer with pork trimmings, nor purchased a whole/half hog, you can also save money by purchasing plain ground pork, instead of pre-seasoned sausage, too!
An added bonus is that you can adjust the seasonings to your taste (using spices like fennel, garlic, coriander, or other natural flavors you prefer) and know that there's no junky fillers or msg in the sausage seasoning that you mix up at home. Homemade Country Breakfast Sausage is also naturally low-carb and sugar free, this version does not contain any sweeteners, corn syrup or dextrose, unlike it's store-bought conterpart may.
How to make Country Sausage at Home
Making sausage at home is very easy. It's really just adding seasonings to ground meat. In this case we are using a custom blend of country sausage spices that make the best breakfast sausage seasonings. It's tried and true, highly rated and honestly everyone asks for the recipe!
What meat is best for Sausage?
By default sausage is made of ground pork, but you can make this country sausage using ground turkey or ground chicken, even venison, veal or beef will work too, if that's more suitable to your preferences. I will caution you that using poultry in place of pork for homemade country sausage will yield a much leaner and potentially drier sausage. So, be sure to cook turkey sausage it at a lower temperature or maybe make oven baked country sausage instead of pan fried.
By default most of you will most likely use store bought ground pork but you can absolutely start with a chunk of pork (I suggest a pork butt or pork shoulder roast) and use a meat grinder!
If you are looking to get started grinding your own meat, my recommendation for a basic entry-lever grinder is to grab the meat grinder attachment for your kitchen aid mixer. We've been using ours for nearly 20 years, it's perfect for small projects, like making a couple batches of homemade sausage!
However, if you are getting really serious about grinding meat at home, I recommend this stand alone grinder. We purchased ours when we started making our own raw dog food, but quickly realized what a versatile appliance it is. Not only will it give you more options for customizing the any meat grinding project like ground beef, it's also very handy for non-lean meat tasks like grinding pork fat or beef fat to render.
What Seasonings are in Country Sausage
When I originally working on perfecting my country breakfast sausage seasoning recipe back in 2015 (yes that long ago) it took many, many failed sausage seasoning spice combinations before figuring out the perfect classic breakfast sausage taste!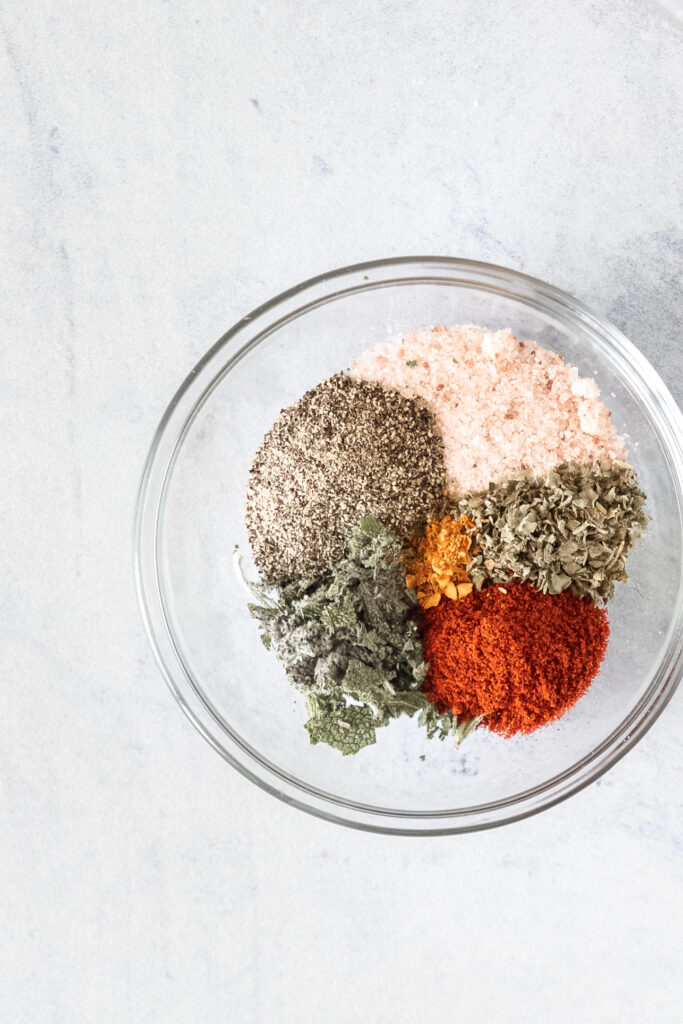 Sausage Seasonings:
Salt, I recommend sea salt
Black Pepper
Majorum
Sage
Paprika
red pepper flakes (aka crushed red pepper)
How to make Country Breakfast Sausage
Since I've ready put together the perfect blend of sausage seasonings for you! If you can mix meat and spices, then you're already a pro at making breakfast sausage!
Simply combine your ground pork and sausage seasonings in a large bowl and get mixing! Feel free to use your hands or a hand mixer works too if you'd rather not get your hands messy.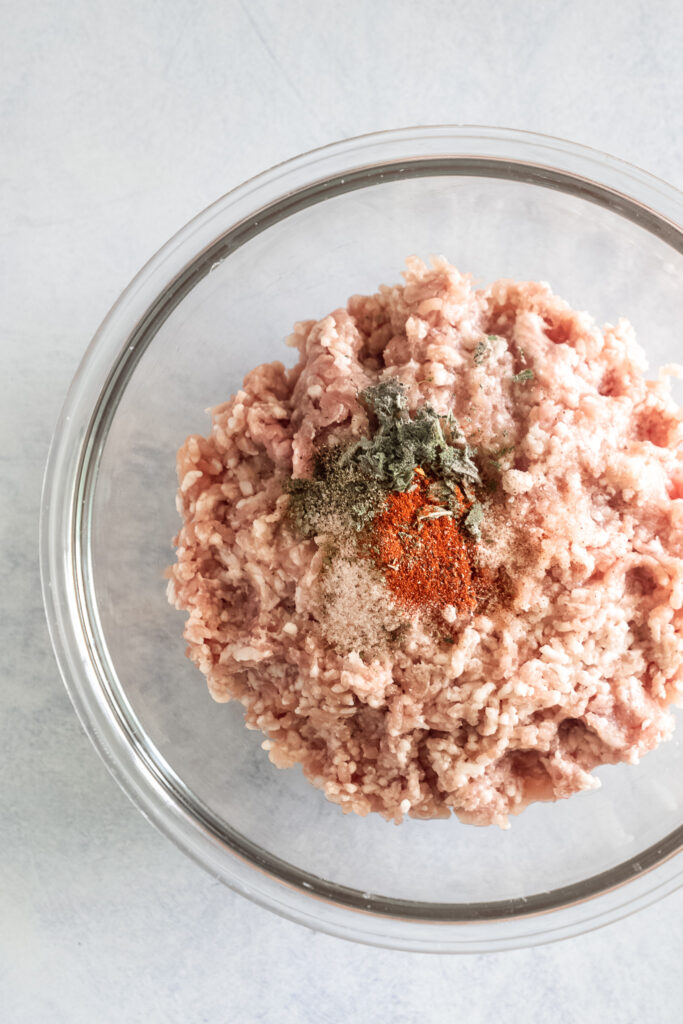 Once you combine your meat and country sausage spice mixture, you can use it as bulk sausage in any recipe calling for country sausage, breakfast sausage or even sweet sausage. My country sausage recipe is perfect for making Sausage Gravy, too!
For most of you, it's easiest to make homemade breakfast sausage patties for breakfast. I like to use a meat scooper to portion out my raw ground pork sausage mixture. It helps keeps the patties consistent size and weight.
Using THIS scoop consistently yields just over a 3 ounce sausage patty, which for Ray and I, is the perfect portion size. Feel free to adjust the patty size to meet your preference.
If you feel EXTRA fancy you can always grab a sausage stuffer attachment for your mixer and sheep casings to make link sausage if that's your thing. I recommend making at least a 10 pound batch of homemade country sausage to make it work the effort to set up and clean up the mess!
No matter if you make homemade country sausage links or patties, you can choose to cook them up immediately to enjoy OR put them into the freezer for later.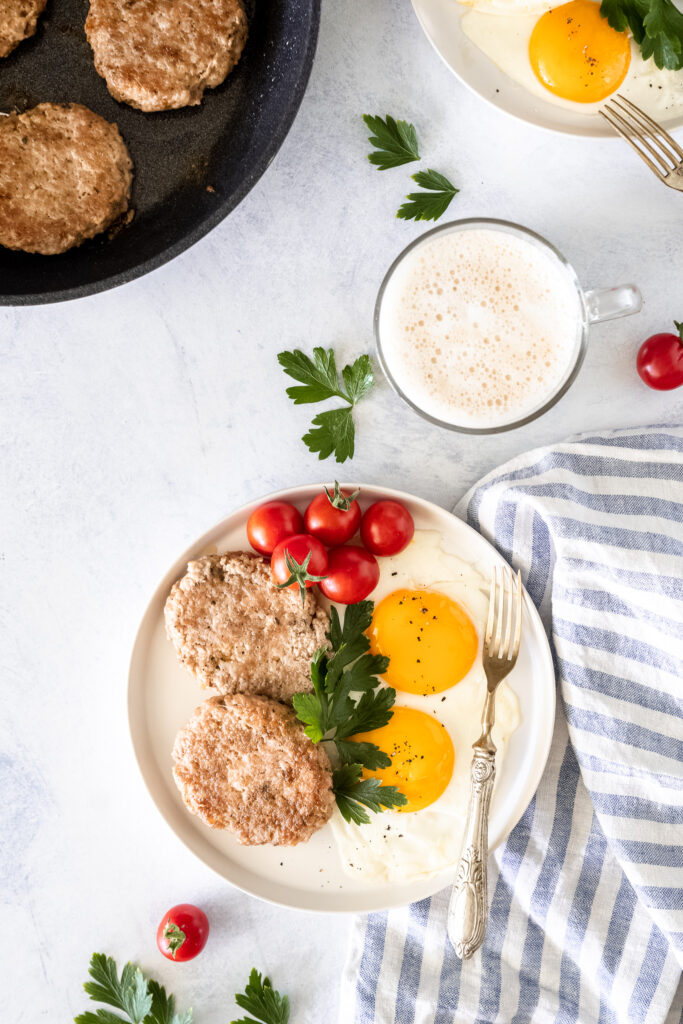 Breakfast Sausage Recipe FAQ
Can I freeze homemade Breakfast Sausage?
Yes you can freeze homemade breakfast sausage! Both raw and cooked sausage can be frozen to be used later. You would want to store your sausage in an airtight container, resealable plastic bag or preferably vacuum sealed for the longest life.
How can I make this sausage spicy?
To make this (or any mild flavor sausage recipe) spicier, adding more crushed red pepper chili flakes will bring more heat to your dish. But be cautious, adding a little bit at a time and test-cooking a small portion to taste, making sure to write down how much crush red pepper you need for your perfect spicy sausage.
Can I add Brown Sugar to my sausage?
If you are lookin to add a hit of sweetness to this simple recipe, a great addition is a teaspoon of brown sugar in addition to the savory seasonings.
How to make Maple Breakfast Sausage?
To customize this seasoning blend to include a kick of maple, simply add 1 tablespoon of pure maple syrup to your seasoning blend.
Can I make this into Link Sausage?
Yes, using a sausage stuffer and sausage casings you can make this easy recipe for breakfast sausage into link sausages too.
Why is my sausage dry?
There are 2 main reasons that your own homemade breakfast sausage may be too dry; there may not have been enough fat in your ground pork (or other meat that you used) or that you are over cooking your sausage, it only needs to reach an internal temperature of 160F using a meat thermometer to be sure.
The last step and maybe the hardest is deciding what type of sweet or savory breakfast sausage meal are you planning to make first with your homemade sausage patties? They make the best breakfast sandwiches, or paired with pancakes or waffles!
Homemade Country Breakfast Sausage Recipe
This Country Breakfast Sausage Recipe will make it easier than ever to transform boring plain ground pork into a delicious homemade country sausage your whole family will enjoy!
Print
Pin
Facebook
Instructions
Combine all seasonings in a small bowl

Using your hands, mix your seasoning blend into your ground pork

Use as you would any other bulk sausage or can be put into casings.

Enjoy
Notes
I always fry up a tiny patty of sausage to make sure it's seasoned perfectly before cooking the rest of the sausage.
You can also use Hot Smoked Paprika in place of the crushed red pepper.
Nutrition
Calories:
299
kcal
|
Carbohydrates:
1
g
|
Protein:
19
g
|
Fat:
24
g
|
Saturated Fat:
9
g
|
Cholesterol:
82
mg
|
Sodium:
354
mg
|
Potassium:
330
mg
|
Fiber:
1
g
|
Sugar:
1
g
|
Vitamin A:
20
IU
|
Vitamin C:
1
mg
|
Calcium:
17
mg
|
Iron:
1
mg