Instant Pot Chicken Gizzards and Broth
Chicken Gizzards, while sounding obscure and intimidating, are not only inexpensive (yet high quality nutrition) they also taste delicious when cooked properly in a pressure cooker!! With my Instant Pot Chicken Gizzards and Broth you will enjoy the taste and texture of an otherwise discarded part of the chicken, made into a gourmet treat in less than 30 minutes!
Pressure cooked Chicken gizzards can be made into a meal with cooked rice and a beautiful garnish of chopped fresh chives and chive blossoms, you'll feel like your at a gourmet restaurant when eating pressure cooker chicken gizzards!
What is a Gizzard?
If you are new to Chicken Gizzards you might be curious as to what exactly a 'gizzard is.
Chicken gizzards are cut from the digestive tract of a chicken. Similar to a stomach, the gizzard is used to grind up the foods the bird eats. Despite what you may think, Chicken gizzards are a very popular food throughout the world. You can find them sold as street food in Haiti and Southeast Asia and in soup in Mexico. In Africa, they're served fried, boiled, or grilled, and in Europe, they're featured in salads and pâtés. Fun fact crocodiles and alligators also have gizzards, in addition to birds, cool huh?!
The flavor of a "gizzard" is more of a dark meat chicken in taste than a true organ meat, like you would expect from a chicken liver, kidney or heart. I like to think of them as the beginner's offal. They can be a little tough since they are more similar to connective tissue than muscle meat. Which means they need to be cooked in a way that ensures that they become tender, that is why we are using an Instant Pot to pressure cook gizzards in this recipe.
You can buy chicken gizzards at your local grocery store, but if you can't find them, ask your local butcher or farmer.
What are Chicken Gizzards & Broth?
Technically you can consider this a instant pot chicken gizzard soup recipe, however I do not, let me explain why. While Ray enjoys many dishes with lots of juicy 'broth' reminiscent of a soup, I prefer my food less soup-like (aka my Potato Chowder with Corn & Bacon). I treat these pressure cooker gizzards as a stand alone protein on my plate, where Ray ladles his gizzard soup into a bowl.
However, if you are avoiding carbs or grains just omit the rice and enjoy the gizzards in their broth as-is or swap in cauliflower rice.
This easy chicken gizzard recipe would also be delicious served with the best mashed potatoes or the best keto mashed cauliflower too!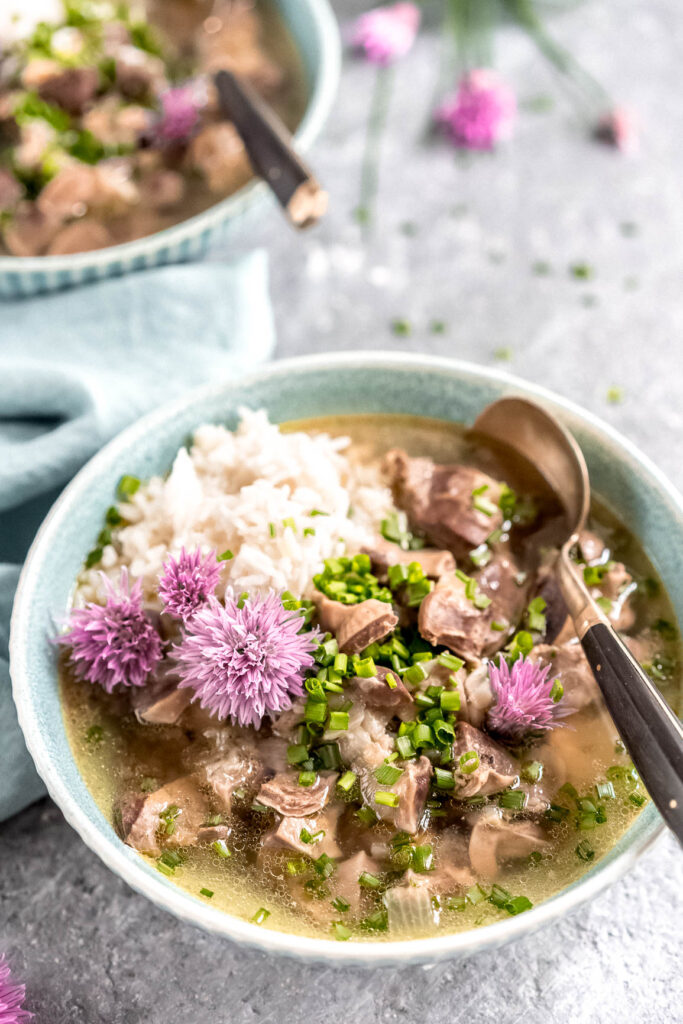 Growing up, I was like the rest of the majority, shunning offal (aka organ meats or otherodd bits with gristle). But my Grandmother and Mom eagerly enjoyed them every chance they got.
At the time I only thought they were crazy in their affection for obscure cuts of meat, however later realized how nutritionally superior these delicate cuts of meat were. Plus they have a whopping 5 grams of protein per 1 ounce serving….. And, let's not forget delicious.
The only regret is that I didn't welcome foods like gizzards into my diet until it was too late to enjoy them with amazing cooks, like my grandmother "Gram Elsie" and Ray's Grandmother "Nan Ryczek".
What are Chicken Gizzards?
A gizzard is a muscle in the digestive tract of a chicken. If you've ever seen chickens pecking away at the ground, they are in fact swallowing tiny bits of grit and gravel, which travels through the chicken's digestive tract and eventually lodges in the gizzard.
Then when actual food arrives, this powerful little muscle contracts, like a tiny fist squeezing a handful of gravel. The gravel grinds up the food, and the food continues on into the stomach. Gizzards are very small, with a distinctive taste that resembles dark chicken meat, but with a chewier and tougher texture if they aren't cooked correctly.
In a nut shell, gizzards aren't anything to be nervous about they are simply a muscle like other muscle meats that we all frequently eat!
Oh, and you can always substitute Turkey Gizzards, they will taste the same only be slightly larger.
What is the Best way to cook Chicken Gizzards?
Since chickens gizzards are well used muscle tissue in a chicken's digestive track, they are notoriously tough unless cooked low and slow. Of course you CAN boil (or simmer) them all day or cool slow and low in a slow cooker/crock pot, but that will take all.day.long and most of us are too busy.
Even for recipes that make breaded gizzards in a deep fryer, they often start by pre-boiling their gizzards to help them soften up. (which if you are into fried gizzards, you can simply use a colander drain these after cooking, dredge them in a seasoned flour mixture and give them a quick fry in a skillet of hot oil, YUM!)
I've found that the best way to cook Chicken Gizzards is in a Pressure Cooker. Its' the only way to ensure that they are tender and soft every time.
How to Cook Chicken Gizzards in a Pressure Cooker?
Wether you are using a stove top pressure cooker or the pressure cooking function on your instant pot or other brand multi-function cooker the directions are the same.
And ridiculously easy.
I'm a HUGE fan of the Instant Pot Max for the best bang for your buck when it comes to electric multi-function pressure cookers, if you are looking for a recommendation. For stove top, you can't go wrong with a Presto.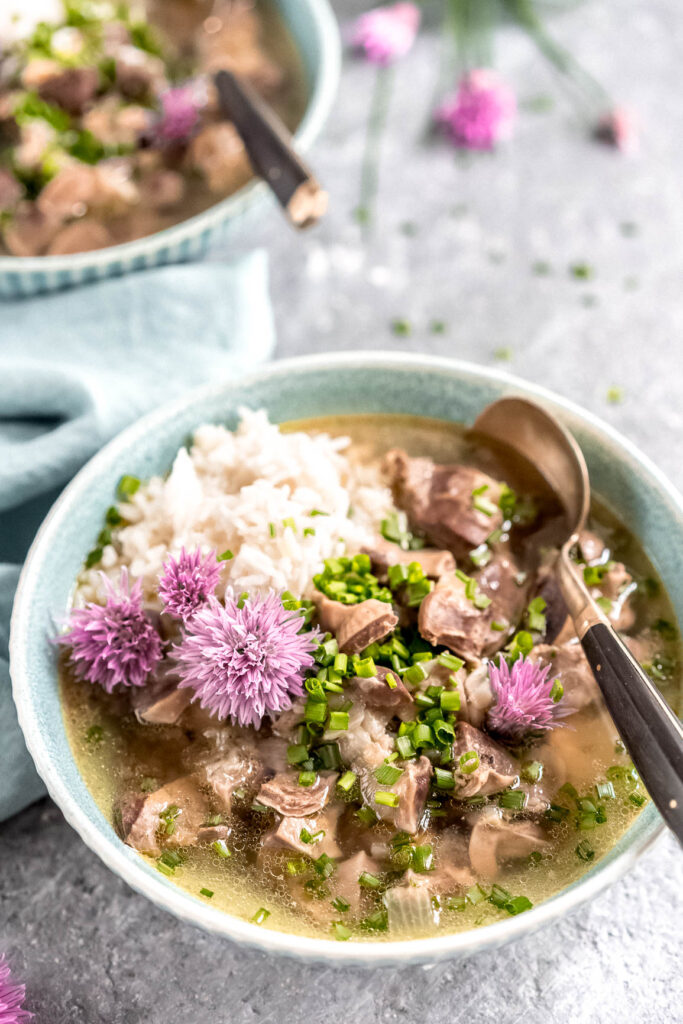 When it comes to pressure cooking, you gotta use at least 1 cup of water so there's inevitably going to be broth made from the cooking process. Hence why I call this Gizzards and Broth.
And chicken gizzard broth is simply delicious, just like a high quality homemade chicken bone broth.
For 1 pound of chicken gizzards, cook them under standard or high (10PSI) pressure for 25 minutes with chopped onion, minced garlic and water. Thats' seriously all it takes to make the best instant pot chicken gizzard recipe!
Of course you can use any combination of spices that you prefer. If you don't have fresh garlic, use garlic powder. A sprinkle of paprika is a great addition too. While we personally like the little sprinkling of fat that is on top of the broth, if you'd rather remove any excessive fat, simply chill the broth in the refrigerator and the fat will solidify on the surface making it very easy to remove.
I like to garnish my gizzard soup with chopped fresh chives and blossoms, but parsley is delicious too!
Are Chicken Gizzards Healthy?
100 gram serving of chicken (or turkey) gizzards will supply nearly 3 mg of zinc, (roughly 20% of the RDA of this essential mineral) which is necessary for a healthy immune system.
Gizzards promote heart health because it is an excellent source of selenium, which supports the antioxidant activity of vitamins C and E in your body. Choline is another heart-healthy nutrient in gizzard.
Gizzards are a natural source of niacin, or vitamin B-3, vitamin B-12 and vitamin B-6.
Chicken gizzards have 2.5 mg of iron (14% RD) in a 100-g serving. Iron is an essential mineral for healthy red blood cells, and a deficiency can cause anemia. The iron that you get from animal products, such as gizzards, is in the form of heme iron, which is easier for your body to absorb than the non-heme iron from plant-based foods, such as spinach and beans.
Gizzards taste really good! I can best describe them as very dark meat chicken. When cooked correctly they are tender and buttery, not tough and chewy as many people have experienced when they cooked them incorrectly!
Chicken Gizzards are a budget friendly protein option. Organic, pastured, free range chicken gizzards are some of the least expensive parts of a chicken, I pay $2.75 a pound from a local organic farm. To find local farms/farmer's markets in your area check out LocalHarvest.org
And Last but not least, by choosing to honor the entire animal (aka nose to tail), when we buy even the obscure cuts of meat we help the farmer who raised the animal continue to supply healthy meat to us all! They are also an inexpensive way to eat healthier, since most shun this delicious cut of meat you get more nutrition for less money!
What is the difference between Chicken Gizzards and Giblets??
Gizzards are one of a loosely defined group of miscellaneous chicken parts known as the giblets (which also includes the heart and liver in addition to the gizzard). These are the parts you find in the little bag usually stuffed into the bird's cavity—but the gizzards can also be purchased separately.
That's why I'm sharing this delicious instant pot chicken gizzard recipe with you!!!
I, like many others, were afraid that gizzards would be tough and gross. But by pressure cooking them they are deliciously delicate and melt in your mouth tender.
Have you ever eaten chicken gizzards? Why or why not? What do you think of my Instant Pot Chicken Gizzards??
Here are other related delicious organ/offal recipes you may enjoy too!
Instant Pot Chicken Gizzards and Broth
With my Instant Pot Chicken Gizzards and Broth you will enjoy the taste and texture of an otherwise discarded part of the chicken, made into a gourmet treat in less than 30 minutes!
Print
Pin
Facebook
Ingredients
Extras
chives

or scallions

chive blossoms
Instructions
Using the Sautee feature on your instant pot or muti-cooker on high, saute onions, garlic and gizzards.

Cook, stirring occasionally until onions are translucent and gizzards no longer look raw, then add in your water.

Put lid on cooker and cook at high pressure for 25 minutes.

Allow to natuarlly fully depressurize before opening.

Serve as a soup or over rice. Garnish with chives and/or chive blossoms. Enjoy!
Notes
For your slow cooker, sauté then add to your slow cooker for 8 hours on high. Enjoy!
Nutrition
Calories:
79
kcal
|
Carbohydrates:
3
g
|
Protein:
1
g
|
Fat:
8
g
|
Saturated Fat:
5
g
|
Cholesterol:
19
mg
|
Sodium:
14
mg
|
Potassium:
40
mg
|
Fiber:
1
g
|
Sugar:
1
g
|
Vitamin C:
2.5
mg
|
Calcium:
17
mg
|
Iron:
0.1
mg